July 8, 2014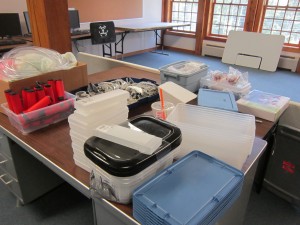 One of the great blessings of last summer was a team effort to equip our elementary school with the science materials needed for our PreK through sixth grade curriculum's hands on activities.  What a joy!  From graduates and families to our Herff Jones Shout Out friends, item by item our science room filled to overflowing.  Nearly all of our non-consumable items came in, as well as many of the consumable supplies we need for action-packed learning.  As we look back on a very wonderful year of science, we would like to send out a giant huzzah to all of you who made this possible.  We have grateful hearts indeed!
2 Responses to "Science Shout Out"
Mrs. Hunewell Says:
July 11th, 2014 at 8:51 am

Education in science is so vital to our collective future – and it's so naturally engaging and fun for kids! Your school is very fortunate to have stakeholders who see the importance of supporting and encouraging children with investigations like those seen here. Kudos to you all!

Cherie Blessing Says:
July 11th, 2014 at 9:55 am

Mrs. Hunewell, your encouragement means so much, especially since I know what an extraordinary scientist/tinkerer/explorer/curious learner you are!
Leave a Reply