July 9, 2013
Hope that you are staying as "unbored" as I am!  What a glorious green summer . . .
Enjoying my brother's visit!  I always love his guitar playing.
Gloriana created a "Because of Winn Dixie" tree for our Fourth of July celebration.  We watched the Andover parade with stars fluttering about our heads.
Our family sings all the time, around the table, in the car, around the piano, . . .  We went to Poppop's rehab center to sing with him for the residents, and the cousins were a big hit.
What could be better than an air-conditioned summer tea party with Mrs. Shedd?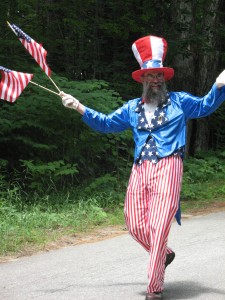 One of our local characters leading the parade.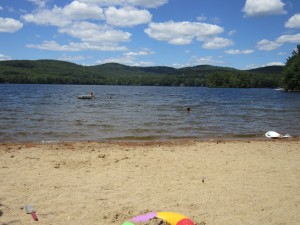 A nice dip in Highland Lake to start each day off right.
So don't forget to send me an update of your summer unbored activities for our blog.  I'm sure you're up to something wonderful too!
One Response to "Unbored Summer Days"
Kayden Says:
August 12th, 2013 at 9:15 am

HEY MISS BLESSING; JUST GOT BACK FROM HAMPTOM NH
Leave a Reply