December 17, 2012
Happy day!  At our staff meeting Wednesday, our administrators revealed a huge answer to prayer!  Mr. Bracy successfully matched our school with a foundation willing to generously sponsor the first phase of our iEngage plan.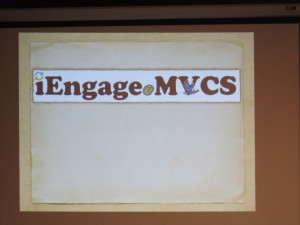 The teachers unwrapped an iPad for each classroom!  Yeehaw!  I've been waiting for this day!
The second and third graders cheered as I revealed the iPad the next day, and many of them have already had a turn trying out one of our new math apps.
I can't wait for the next day of training, as well as the chance to put into practice a number of sessions from the Christa McAuliffe Technology Conference on using iPads in the classroom.
We are all engaged, that's for sure.  Our whole family has been trying out educational apps today on the snow day.  This one, Monster Physics, kept all ages occupied and challenged solving physics puzzles with rockets, levers, ramps, and gears for well over an hour.
If you have favorite ideas for explosive learning with an iPad, do share by leaving us comments!
One Response to "iEngage at MVCS"
Bug's Mom Says:
December 17th, 2012 at 7:39 pm

So exciting! I know one second grader who is thrilled!! =)
Leave a Reply